LED Caravan / Trailer Tail Light / Stop Tail Indicator Reverse
Description:
LED Caravan / Trailer Tail Light / Stop Tail Indicator Reverse
This Series of round LED signal lamps are a versatile stand alone or combination lamp solution! The super bright LED signal lamps deliver the durability of maintenance free LED technology and greater visibility, providing increased safety with minimum current draw. Couple this with virtually unbreakable polycarbonate lenses and housings, this Series will survive the toughest environments. The clever design enables it to be fitted as a recessed flush mount lamp, replacing existing 4" round grommet and 5.5" flange mount lamps. It produces more light output than incandescent lamps, whilst drawing a fraction of the current. They are dust & water proof and totally maintenance free, with a life span rated at 100,000 hours.
Multi-volt 10-30V DC input & low current draw
Brighter than conventional incandescent systems
100,000 hour LED life span with solid state technology
Maintenance free
Sealed polycarbonate lens & housing
Water and dust proof
Pre-wired with 300mm of sheathed tinned copper cable
Flush recessed mount design
Retro reflector integrated
Available in clear or coloured lenses
ADR/ECE approved for all functions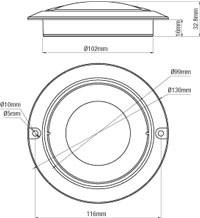 MOUNTING BRACKET FEATURES
Polycarbonate construction
Water and dust proof
Complete with wiring harness
Simple surface mount design
Part Number
LT109
LT110
LT108
Description
Round Stop/Tail Lamp Clear Lens
Round Rear Indicator Lamp Clear Lens
Round Reverse Lamp Clear Lens
Functions
Stop/Tail
Rear Indicator
Reverse
Voltage Input
10-30V DC
10-30V DC
10-30V DC
Number of LED's
19 LED's
15 LED's
15 LED's
Current Draw Amps
S/T – 0.05/ 0.05A @ 13.8V
0.1A @ 13.8V
0.1A @ 13.8V
Dimensions AxBxC
130×32.8mm
130×32.8mm
130×32.8mm
Lens Construction
Polycarbonate
Polycarbonate
Polycarbonate
Housing Construction
Polycarbonate
Polycarbonate
Polycarbonate
Mounting Type
Recessed Mount
Recessed Mount
Recessed Mount
Mounting Hole /Cut Out
102mm
102mm
102mm
Cable Length
300mm Tinned Copper
300mm Tinned Copper
300mm Tinned Copper
ADR Approval
Stop – CRN 46759
Tail – CRN 46758
CRN 46747
CRN 46746
CTA Approval
CTA-061036
CTA-061039
CTA-061046
Available in the following styles:
LT108 LED reverse Lamp
LT109 LED Stop/Tail Lamp
LT110 LED Indicator Lamp
Trailer & Caravan Superstore stock a wide range of lighting and electrical products for caravans, motorhomes, boats and more. Shop online today for the best deals.
Traralgon Trailers was established in 1980. We build trailers & supply an extensive range of trailer parts, caravan parts and accessories both locally and throughout Australia. We are now known as Trailer and Caravan Superstore. Our family-owned and operated company has built a strong reputation for professional and reliable services which exceed our customer's expectations. As well as parts and accessories, we also have a repair centre where we can both repair your damaged trailer, service, or fit any parts and accessories that you have purchased in our store. If you have any questions or need advice on any item we sell, please contact our sales team on (03) 5175 0998 or by email.